The second edition of the "Rendez-vous de la pensée protestante" was held in Paris on June 26th and 27th. The aim of this annual meeting is to encourage and develop Protestant theological thought by bringing together all the theologians who wish to do so, and in particular representatives of the six French Protestant theological faculties (Paris, Montpellier, Vaux-sur-Seine, Aix-en-Provence, Strasbourg and Collonges) as well as faculties from Switzerland and Belgium, whether Lutheran-Reformed, Evangelical or Adventist.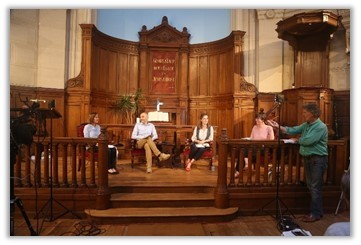 The theme discussed this year was the authority of the Scriptures, a subject that doesn't necessarily create a consensus among the different currents of Protestantism; but there lays precisely the interest in getting to know each other's thinking better, reflecting together, and exploring theological gaps. The methodology adopted was to bring pairs of theologians into dialogue. Moments of fraternal and spiritual sharing complement the theological debates.
The Adventist theological school of Collonges was well represented: Gabriel Monet (Dean), a member of the organising team, led a debate and presented a synthesis; Jean-Luc Rolland co-animated the spiritual times; Daniela Gelbrich and Luca Marulli prepared and presented a thesis on the subject and then dialogued with the Genevan pair, insisting in particular on the fact that "the authority of Scripture is recognised and unfolds when the Bible becomes the place of the encounter with the God of Jesus Christ".
The theological reflection took place within the framework of a convivial encounter. The third edition of the meeting is scheduled in June 2021.